High-performance durability
2-Layer MSL Technology:
The best-in class MSL fusion construction makes your board lighter, stiffer & incredibly durable.
Ergonomic Design:
The 'all around' shape and the 32'' width provides improved stability and manoeuvrability for all levels of paddlers on the water.
Portable & Inflatable:
Engineered to inflate in minutes, and effortlessly packs down into a backpack to take on the go.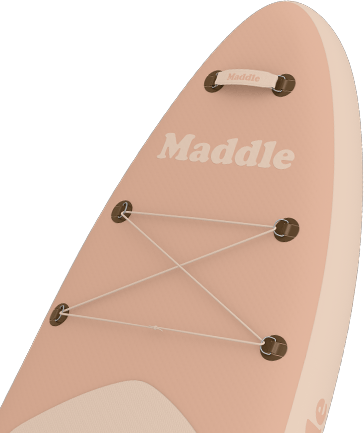 Accessories included with your Maddle
Foldable Paddle
Lightweight, alimunium shaft with a nylon blade that matches your board colour.
Length: 72'' to 86''
Weight: 3-4 lbs
Leash For Safety
A padded, neoprene leash to fit any ankle size so you can board with confidence.
Pump To Inflate
Ultra-efficient dual-action handpump to inflate your board.
Height: 24"
Integrated pressure gauge
Backpack That Fits it All
Pack it all in our backpack to take it on the go for all your adventures!
Total weight with board: 24 lbs
2 Year Warranty
We're so confident about the quality of our paddle boards that we now offer a 2 year warranty on all 2023 board purchases!
Should you have any order issue, our team of friendly Canadian customer service agents will be more than happy to assist you. More Maddle, less hassle!
Maddlers from all around the world